PHARFAITE swimwear, underwear & cospay costumes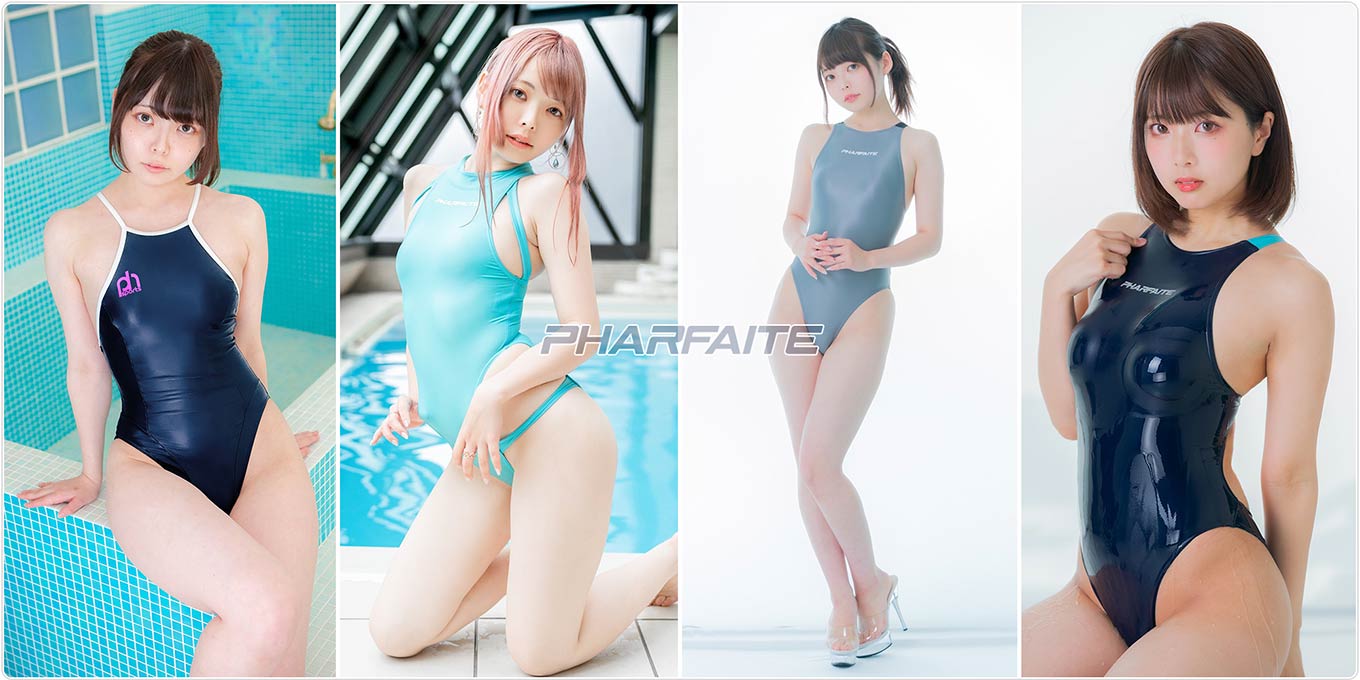 PHARFAITE © by STUNNING ARTS Co. Japan
STUNNING ARTS Co. is a Japanese apparel company that produces high quality lingerie, swimwear, and costumes for gravure models and cosplayers.
PHARFAITE is the flagship brand of STUNNING ARTS Co., an original brand based on the concept of "fetish and cute".
PHARFAITE is recognized as one of the most famous costume brands in Japan atm, and has already been chosen by many celebrities for their gravure costumes.
Unlike usual fetish costumes, Pharfaite is not only sexy, but also focuses on design and attention to detail.
PHARFAITE´s mission statement: to express the charm of women more beautifully.
All designs created by Narumi Yui, the chief designer of Pharfaite, are planned and implemented with great care, so that women themselves find them very appealing (not only visually). This is because she was a model herself for a long time, but was extremely dissatisfied with the finish, workmanship and fit of conventional costumes. The fetish scene was and is close to her heart and so it became her great desire to improve this kind of garments – I guess : with very great success!
Our current blog entrys about PHARFAITE swimwear and garments :
Pharfait about themselves :
The company began selling swimwear in summer 2020.
Our swimsuits are original products, with everything – from the patterns to the materials – developed and produced by us. We are constantly creating new designs that are as high quality and original as the garments from other popular sports manufacturers.
In particular, the swimsuit style with binders (straps) at the bust and hips, which was launched in the same year, has been recognized as an innovative design that can enhance the beauty of a woman's body line, while being an unprecedented design. This swimsuit has been exported to ~ 30 countries and regions so far.
Our company has also focused on own development of materials, such as the "SGS (Super Glare Skin)". It has a high gloss like enamel and an unique fit that sticks to the body. It beautifully expresses the shade of the body line.
The number of users who wear swimsuits on social network sites is increasing in Japan. Many of them are gravure models, cosplayers, and even men. It is said, that this movement was influenced by the design of the "binder swimsuits" released by PHARFAITE and the great appeal of the SGS fabric.
PHARFAITE is constantly launching new designs, which are gradually replaced by newer styles. Many of the former series are highly acclaimed and are therefore now difficult to buy in Japan – partly because they have already reached collector status.
In terms of material development, we have already launched several innovative fabrics, such as the "SGS", the "SGS/FIT" (with improved elasticity) and the "SOFT-WET", which hugs the body perfectly and has a real good fit. It is also worth mentioning our latest creation, the "SKINNY-SATIN", which has an elegant satin-like sheen and feels like a second skin.
We can proudly say that over the past two years, PHARFAITE's swimsuit line has won the hearts of many – and that´s because of our innovative designs and materials, and our pursuit of high quality, comfort and fit.
PHARFAITE : Who is who
Stunning Arts Co. / PHARFAITE Co.
Representative Director: Mitsuki Takashi
Designer: Narumi Yui
Mitsuki Takashi
An executive who established Stunning Arts. He was able to gain a lot of valuable experience in another company – where he was responsible for the launch of a very successful product series.
He uses his practical experience in fabric knowledge and factory management to achieve the unique designs of today. He is also responsible for production control.
Narumi Yui
Produces all designs and concepts for Pharfaite. She uses her own past experiences as a model to design costumes that are both high quality and fashionable.
Our business has been in operation since 2015.
We established Stunning Arts Inc. in 2018.
Launch of Pharfaite swimwear: summer 2020